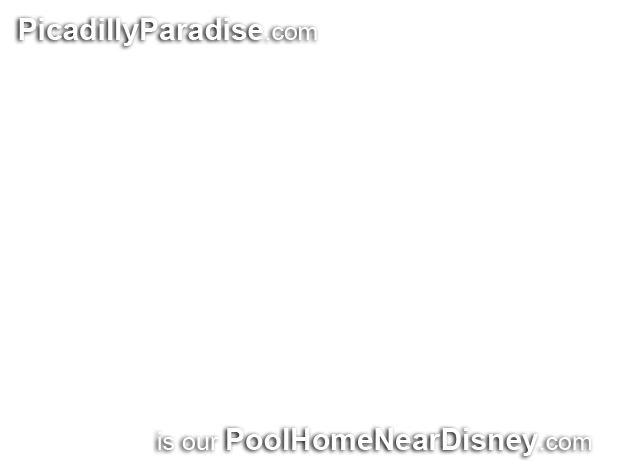 Enjoy PicadillyParadise in our PicadillyPalace!
PicadillyPalace is our rental home on Picadilly Circle
(are you getting the "Picadilly" theme?)
in the quaint and quiet community of Lindfields, in warm and sunny Florida!
Only 6 Miles from Disney World and minutes to all the area attractions!!!
---
Our PicadillyPalace is a licensed 4 Bedroom, 2 Bathroom, air-conditioned, and spacious Florida rental home featuring a private screened-in lanai with our elegantly tiled and heated oversized 28 foot pool that has panoramic views to a beautiful and serene woodland conservation area.
The Master Bedroom Suite has a king size bed, cable TV with a DVD/VCR combo unit, adjoining private sitting area, a private attached ensuite bathroom with soaking tub, glass enclosed shower stall, his/hers double sinks and private wc. The Second Bedroom has a queen size bed and cable connected LED TV The Third and Fourth Bedrooms each have two twin beds, their own cable connected LED TVs along with a DVD and/or VCR. All bedrooms are fully furnished with ample closet space. Total sleeping accommodations are for 8 guests. (Sorry, we don't allow pets of any kind in the house) A crib, high chair, and three strollers are available for the little one - free for your use Along with the bedrooms noted above the house has spacious living areas including a main living room with comfortable seating, tables, lamps, a 55" 4K UHD LED TV with Netflix streaming videos and Google Chromecast along with a VHS/DVD player to watch movies from our entertainment center featuring an extensive library of DVD and VHS movies (as well as books and games); a computer work area (with computer & HP Laserjet all-in-one Printer/Scanner/Fax/Copier), a breakfast area which seats six; a breakfast bar that seats two, a formal dining room which seats six; a utility room with washer/dryer; & a fully equipped kitchen with glass cooktop stove We offer a computer - protected and locked down with 'autowipe and autorevert' and attached to the internet through a high speed Broadband connection With our VOIP phones, you get FREE Unlimited local & long distance calls and some international calling with our Xfinity plan (details in the house).
At a glance, just some of the many amenities that we offer:
* FREE - Netflix streaming movies - over 6,000 on demand movies and tv shows to choose from!
* FREE Unlimited local & US long distance & select international calling with our Xfinity plan (details in the house).
* Guest cabinet stocked with supplies to make your stay comfortable, that you would otherwise have to go out to purchase.
* Pool table and Air Hockey table is in the home (not in the hot garage, as some owners offer).
* Computer with FREE unlimited High Speed Wireless Internet (bring your laptop and surf wirelessly, wired, or use our "secured" computer).
* Our Computer is protected with a locked down, autowipe and autorevert feature for your safety and security. Each reboot starts up a clean computing experience.
* HP Laserjet printer/copier/scanner/fax FREE for your use.
* 55" 4K UHD LED TV with Netflix streaming videos and Google Chromecast
* Oversized 28'x 15' heated, screened and secluded pool (3ft end for the little ones, drops to 6ft for the more experienced swimmers).
* Pool and views from the deck overlook a beautiful woodland conservation (not swampy).
* Sheltered and screened lanai on pool deck for eating al fresco even if it rains or for those sun-sensitive persons.
* Pool, deck and woodlands conservation is visible from master suite, living room, kitchen, breakfast room, dining room, and third bedroom.
* Spacious 4BR/2BA all on one floor - no stairs to climb, everyone on one level.
* 5 cable connected large TVs, all with either DVD and/or VCR - no arguments over what to watch.
* 40+ DVD and VCR video collection (20+ for children), books, and board games.
* Outdoor closed circuit perimeter security cameras for your safety and security. You see who is approaching the home on the monitor inside the house. Your privacy is respected as the outdoor cameras only monitor what the public can see walking down the street past the front of the house. We have one camera in the attached garage aimed at the garage door. We have a Ring doorbell. No cameras are in the house or in the pool area!
* Washer and Dryer in a utility room in the house and not in the garage.
* FREE use of gas (propane tank) BBQ.
* Inspected and Licensed in Osceola County and the State of Florida (obligated taxes are collected and paid to the appropriate agencies).
* 24/7 Management Company for questions and support.
* Prestigious and established Lindfields Community - no new construction noise.
* 6 miles from Disney World (with our secret shortcut).
Why Rent Our Home?
Convenience and Savings!
Why rent a cramped hotel room when you can rent our whole house for about the same amount of money? This house sleeps 8 and is spacious enough to accommodate two families on vacation (holiday). That is a significant savings!
Savings continue by not having to eat every meal in a restaurant. Our kids want their favorite breakfast cereal and milk along with watching TV when at home, but always seem to order foods in restaurants that they never seem to like or finish. And it usually costs way too much. Get dressed, drive around looking for food, and wait in line to eat breakfast out with a family of 5 and you will easily spend $25 or more. Enjoy a lazy morning in and have breakfast at the house, then let the kids jump in the pool while you plan the rest of your day. Saves time, saves trouble and saves money!
Eat dinner out with a family of 5 at an inexpensive restaurant, and you'll pay well over $75. Over $100 at a more upscale one. And, you'll still wait in line. If you like eating out, Great! But don't forget to bring back the leftovers. You'll have a refrigerator, microwave, stove, pots/pans to store and prepare that wonderful food for later that evening (isn't it a fact that kids never finish eating in the restaurant, but are always hungry later that night!) Late night snacks in the house are always easy and accessible.
When you eat a more leisurely breakfast each morning before you set out and enjoy a carefree family dinner a few times at the house, during your stay, you will save enough money to help pay for your stay. Now that is vacationing wisely!
We discovered this ourselves many years ago, when we rented our first vacation home. We are a family of 5 and couldn't believe that we'd been renting small and cramped hotel rooms all along. We were so impressed with renting a house and so enjoyed it that we bought one to use for ourselves and rent out to others. PicadillyPalace is our rental home when we come down to Florida. Make it yours too!
The Hotel way:
You pull up to the hotel and there never is a spot out front. You drive around to the side. You walk up to the reservation desk and wait in line. They put you up on the 6th floor overlooking the parking lot. You go check out the room – small with two beds. You need a rollaway bed for the little one. Are they going to charge you for it? Are they going to tell you that 5 is too many in a room (it is against fire code) and you have to pay additional for an adjoining suite? Maybe you just don't ask. Do you just let the little one sleep on the floor with blankets and a pillow? No, three to a bed will have to do. Now it is time to unload the car, but first you have to find a cart. No cart. OK, let's start to unload and maybe one will show up. There's one – you go for it. Someone gets there first, you sigh. The kids are getting restless. Send them up to the room with the other adult. You'll manage. Another cart and you grab it. Load everything on the cart and carefully wheel it to the room (things fall off anyway). You're in. You're beat. But the family wants to eat. No one wants to eat in the hotel, you get in the car and it is off to find an affordable restaurant. Exhausting!
The next day the kids are up early and you'd like to sleep just a little more. They turn on the TV – you're up. One bathroom and you take turns. Go down to the hotel restaurant and have a so-so breakfast at gourmet prices. After breakfast it is back up to the room to finalize the plans for the day. The kids want to go to the pool first. You have to make a business call and no one wants to wait. You send them off ahead. You finish the calls (it is never one) and you head down to the pool. Where is it now? By the time you get there they are ready to leave and you hear about the things you missed while you were upstairs. They get out of the pool and it is a "wet in air-conditioned" cold shivering walk back to the elevators and back up to the room. You hang the wet trunks in the bathroom, get dressed and head out the door. One final chore before you go – uh, where do I hide the valuables from the cleaning staff, ummm let me see.
It was a long and exhausting day (and night) at the amusement park. You drive back to the hotel. It is dark and late and all the close in parking places are gone. You park about a block away in the back of the parking lot. The kids are asleep and you have to carry one of them back to the room. You walk the block to the hotel lobby with child in arms. You wait and wait for an elevator with child in arms. You finally make it back to the room and now you're ready to sleep. But the kids are now up, with their second wind, and want a bedtime snack. The hotel eateries are closed. Does the hotel have vending machines? Let's just go to bed everyone, pleeeease!
The day you leave is even worse, because everyone is checking out at the same time. Forget the cart, you'll never see one, just start making the trips with the luggage to the elevator in piece meal and then down to load the car (at the other end of the parking lot). The kids are hungry but you have to get out of the hotel first, then you can eat. This is a vacation?!?!!?
The PicadillyPalace way:
First, there are no lines, no carts no check-in. We knew you were coming and the key is waiting. You pull up to the garage and you've pulled up to the front door. You are treated like royalty – you are on the first floor and the panoramic views of nature are spectacular. You don't get one room with two beds and a single small bathroom to share. Awaiting you are four bedrooms and two bathrooms, a house that sleeps 8 comfortably. Add to that all the comforts of home and a private screened-in heated pool overlooking a beautiful and peaceful conservation area. You are off to a "royal" start.
Our house is close to grocery stores and all the main attractions. Disney is only 6 miles away. You can't pick a nicer location. All Orlando attractions are nearby. The Atlantic Ocean and Cape Canaveral, where the shuttle lifted off, are only an hour away. The Gulf Coast is little more than an hour in the other direction..
Enjoy the Parks – Enjoy our Home!
After running around the parks and the stores, take a day off and relax in your own private pool. No cold shivering walks back to the hotel room as you are just steps away from comfort. Sit back on the pool deck, enjoy a cool and refreshing drink and listen to the sounds of nature from the conservation area.
No carrying kids for blocks and waiting for elevators late at night. Pull up to the house and you've pulled up to the front door - you are in the house in seconds. The kids are in their bed and the two of you head over to your private room. Time for a little romance or a quick dip in the pool, maybe?
The kids want to get up early. Fine, they have the whole house to themselves and separate televisions away from you. Close the bedroom door and it is just the two of you.
Have a relaxed morning breakfast or family dinner on your schedule and not on some restaurant's timetable and waiting list.
And when it is time to leave you do just that. Your car is waiting at the font door and there is no need to find a cart or wait in line to check out. You have an extra hour - go pickup some gifts and head for home.
Now that is how a family vacation should be!
Treat yourselves like "royalty'. You've worked hard, you deserve it!
Make this a vacation to remember!
Make this a PicadillyParadise Vacation – one you'll want to come back to over and over again!
Location, Location!!
Well, where do you want to spend your vacation/holiday?

You can walk out onto our pool deck and see this:

Or walk out onto their pool deck, and see this?
Look, it is no secret that you pay for location. We realized that when we bought this home. That extra value, that we paid for, bought us peace and quiet. And much needed after a long and chaotic day at the parks. I wanted to relax in the morning with a cup of coffee in a serene and tranquil environment. I wanted to hear my children in the pool and not 100 other kids in 10 nearby pools. I wanted to sit out on the deck, late into the evening, and hear the sounds of nature. And now I can - and so can you!
Choose peace and quiet. Choose PicadillyPalace.
Serenity when at the home, yet less than 4 miles to Disney World.
The Best of Both Worlds!
As our motto says, "Enjoy PicadillyParadise in our PicadillyPalace!"
Make the wise choice! Make the choice you won't regret!
Availability and Pricing
Rental Rates/Pricing** appear below the calendar

PicadillyParadise Availability Calendar

| 2023 Season | Season Begin | Season End | Nightly Base Rate |
| --- | --- | --- | --- |
| New Years | Jan 1 | Jan 1 | $215 |
| Value | Jan 2 | Jan 4 | $157 |
| Marathon | Jan 5 | Jan 7 | $164 |
| Value | Jan 8 | Jan 12 | $157 |
| MLK Day | Jan 13 | Jan 15 | $174 |
| Value | Jan 16 | Feb 8 | $157 |
| Regular | Feb 9 | Feb 16 | $192 |
| Spring | Feb 17 | Feb 25 | $214 |
| Regular | Feb 26 | Mar 2 | $192 |
| Spring | Mar 3 | Mar 23 | $214 |
| Regular | Mar 24 | Mar 29 | $192 |
| Spring | Mar 30 | Mar 31 | $214 |
| Easter | Apr 1 | Apr 12 | $220 |
| Regular 2 | Apr 13 | Apr 13 | $189 |
| Spring 2 | Apr 14 | Apr 14 | $196 |
| Regular 2 | Apr 15 | May 25 | $189 |
| Memorial Day | May 26 | May 28 | $189 |
| Summer | May 29 | Jun 29 | $168 |
| Independence Day | Jun 30 | Jul 2 | $177 |
| Summer 2 | Jul 3 | Aug 17 | $167 |
| Value 2 | Aug 18 | Aug 31 | $157 |
| Labor Day | Sep 1 | Sep 3 | $173 |
| Value 2 | Sep 4 | Sep 14 | $157 |
| Fall | Sep 15 | Sep 30 | $180 |
| Fall 2 | Oct 1 | Oct 5 | $177 |
| Columbus Day | Oct 6 | Oct 8 | $200 |
| Fall 3 | Oct 9 | Oct 26 | $203 |
| Halloween | Oct 27 | Nov 1 | $202 |
| Marathon 2 | Nov 2 | Nov 4 | $207 |
| Fall 3 | Nov 5 | Nov 20 | $203 |
| Thanksgiving | Nov 21 | Nov 24 | $207 |
| Fall 3 | Nov 25 | Nov 30 | $203 |
| Winter | Dec 1 | Dec 7 | $206 |
| Winter 2 | Dec 8 | Dec 14 | $221 |
| Holiday | Dec 15 | Dec 24 | $240 |
| Holiday 2 | Dec 25 | Dec 31 | $248 |
Pool Heat is additional and charged at $20/night
(and highly recommended for all but the warmest summer days)
A $150 Cleaning Fee is additional & charged for stays of 4 nights or less. For stays of 14 nights or more, we can offer a special rate. Taxes, Cleaning (for stays of 4 nights or less), & Pool Heat are additional.
US prices above do not include the 13.5% Florida tax
(which is applied to all rental fees regardless of length of stay) ** Rental prices listed above are based upon a $US Dollar payment. Non-US renters should use current currency exchange rates to know your actual cost. Use the handy popup currency converter below from XE to convert from your currency to the US dollar.
Payment with PayPal
Make your payment quickly, conveniently,
and safely here!
We use Paypal, like others use a bank, to clear your credit card charge. You do not need a PayPal account. You can just use your credit card.
Select the Payment Type from the drop down menu below (Rental Payment or Booking Deposit). Then click the Pay Now button to go to the PayPal site to finalize payment.
Earn Free Stays
Earn Free Stays with PicadillyPoints

A New and Unique Concept in
Vacation Home Rental Rewards!
You've stayed at PicadillyParadise and had a most enjoyable experience. You can't wait to go home and tell your friends and family about this fantastic home you had just stayed at. And after hearing your rave review, they decide to plan their next vacation/holiday at PicadillyPalace, too.

So, what's in it for you? PicadillyPoints, that's what! You collect PicadillyPoints for everyone you refer, who books with us, that you can later trade in for reduced rental fees on any of your upcoming stays with us at PicadillyPalace. The more your referrals book - the more PicadillyPoints you hook!

Well I can tell you that we are the only vacation home (that I know of) that rewards you with points, PicadillyPoints for either staying with us and/or referring others who stay with us - that you can cash in towards future FREE stays. Hotels and airlines may reward you but only for your personal use, and not your family or friends. We reward you for all stays that you refer to us including your own personal stays.

Here's how easy it works:

1) First, book directly with us, a vacation/holiday stay of one week or longer and complete that stay at PicadillyPalace. (If you don't stay then your referral isn't worth much to anyone)

2) Sign our guest book on our website after your stay (and we really want you to be honest as this does not affect your PicadillyPoints)

3) Complete step 1 and 2 above, and then send us an email requesting to be in the program and you are in the program!

4) Start referring friends and family and start collecting PicadillyPoints on their stays with us. (You even collect PicadillyPoints on paid portions of your stays with us, too!)

It is that easy !!!

For each $10 that your referral pays on rental (net, before taxes), you get 1 PicadillyPoint . Each PicadillyPoint is worth $1 of credit which can be applied to your next stay with us (you are actually earning 10% of that referral in PicadillyPoints). As most stays are a week or longer, PicadillyPoints add up very quickly. Collect and hold PicadillyPoints in your account, for up to 5 years, until you are ready to use them. Refer enough people and your next vacation/holiday with us, can be virtually FREE!!!

By rewarding you with PicadillyPoints for friends and family that you refer who book paid stays with us, you don't ever have to stay and pay us again if you earn enough PicadillyPoints through those referrals to make all your future stays, free stays. You won't find this type of point program through any hotel or airline.

I have a guest from New Jersey, who stayed with us twice (so he got PicadillyPoints for his second week that he paid for). He referred his brother and two friends who each stayed 1 week and then referred his mother who stayed 2 weeks - so he has approximately 6 nights FREE already - which he can apply to his next trip out if he wants. A few more referrals and he has a full week FREE!! No catch - he stays for FREE!! Update: He recently stayed one week and applied all his PicadillyPoints and only payed for 1 night and the other 6 nights were free.

A guest from the UK is making his third trip out. He paid for the first. He accumulated PicadillyPoints on his second trip out. And has applied those points to this third trip out, actually reducing his rental amount. A family from Germany is planning their fourth trip out and used PicadillyPoints on their past two trips also reducing their rental amount. Other returning guests have done the same thing.

Why does this PicadillyPoints program work? Because the referral came from you! What better place to trust than one recommended by you! And when they stay - they can join the program too and start collecting PicadillyPoints towards future FREE stays for their family. Everyone wins. Better yet, everyone gets to stay in our house when in Florida. A win - win situation, as I see it!!

I hope you consider staying with us. Once you've been to Florida and the theme parks - you'll want to come back. You have to stay somewhere - why not reward yourself for doing so!!
Pictures

Panoramic Views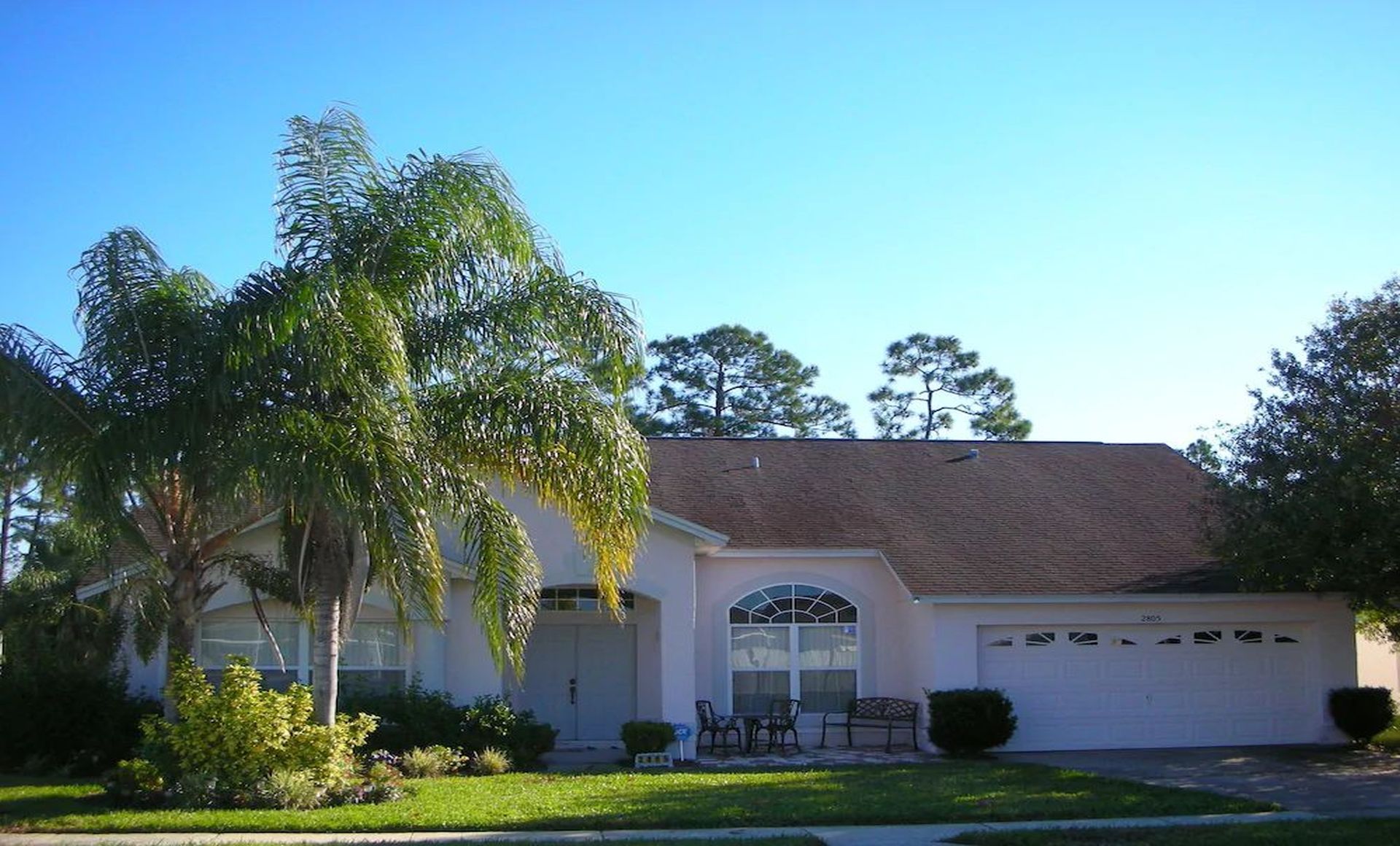 PicadillyParadise Panoramic Views
After clicking a panoramic link below, the panorama loads in a pop-up window, so if you have that blocked you won't see it. Instead, you can then right click on the link and pick "open in a new tab". For optimized viewing, in the pop-up window, click and hold your mouse button on the bottom of the rectangle frame and pull it up until the top and bottom black borders disappear. You can also place your mouse in the lower right corner and size the rectangle frame that way as well. To pan through the panorama while viewing, click and hold your mouse buttom in the middle of the panorama and drag left and right.

Click here to see a panoramic view of our Pool, Lanai & Conservation Overlook

Click here to see a panoramic view of our King Bedroom

Click here to see a panoramic view of our King Bedroom Ensuite Bathroom

Click here to see a panoramic view of our Queen Bedroom

Click here to see a panoramic view of our Twin (East) Bedroom

Click here to see a panoramic view of our Twin (West) Bedroom

Click here to see a panoramic view of our Shared Second Full Bathroom

Click here to see a panoramic view of our Living/Front Room

Click here to see a panoramic view of our Dining Room

Click here to see a panoramic view of our Kitchen & Breakfast Room

Click here to see a panoramic view of our Kitchen (Fully Stocked)
Our Guestbook
FAQ
Frequently Asked Questions

How do I book a stay at PicadillyPalace ... ?
First, review the availability and rental rates for the season in which you wish to book in the section above. Then cick down to our "Contact Us" section and email us directly and we'll take it from there.

Where are you located ... ?
PicadillyPalace is located in the beautiful community of Lindfields (off of Hwy192) between Hwy 27 and the road to Disney's Main Gate West. We are 6 miles from Walt Disney World.

Please note that our community of Lindfields is one of the closest communities to Disney World - less than 6 miles (beware of claims in minutes, because if they don't give miles/km then they are much further out than they want you to believe, hence the minutes claim!!!).

How many people can stay at the home ... ?
8 People, maximum, regardless of age are allowed to stay at the home. Sleeping arrangements are for 2 people in each of 4 bedroom. More than 8 people will violate State Fire Regulations and is illegal.

What if I need something ... ?
For any home related issues, we have a management company that will respond to your needs. We will provide you with the contact information before your arrival. They will attend to any home related issues, should they arise, while you are there. They will arrange for the home to be clean and presentable before your arrival. And they will arrange for the home to be cleaned for the next guests after you leave. Should anything be out of place or you notice something that needs to be addressed, you will call them to attend to these issues.

Most of your initial living needs will be ready for your arrival. PicadillyPalace is very comfortably furnished and fully equipped. Linens, pillows and blankets are supplied for each bedroom along with towels for each bathroom. All kitchen utensils and equipment is provided including, plates, cups, glasses, silverware, pots and pans, bake ware, etc. There is a washer and dryer in the home. PicadillyPalace provides hand soap and toilet paper in each bathroom along with a dishwasher and detergent for your comfort as well.

PicadillyPalace is very close, within minutes, to two Publix grocery stores, a 24 hour Walmart, Walgreens pharmacy, liquor stores, gas stations, hair salons, restaurants (including pizza delivery) and a multitude of other stores and specialty shops. A walk-in medical facility is nearby as well.

What do I need to bring ... ?
Bring your clothes and personal items and of course don't forget the kids! Other than food, the home will be ready for you. As noted in the previous question above (what if I need something), PicadillyPalace is close to everything and anything. Items that you forgot to bring can picked up nearby after your arrival. First settle in, decide what you want to eat for the week (or at least the next few days) and then go shopping at the nearby grocery stores.

Remember two basic rules, 1) don't overbuy (you can always make a second trip) and 2) eat like royalty since no matter how much you spend at the grocery store for gourmet food it will surely be considerably less money than what you would have spent had you eaten out in a restaurant. And most grocery stores (supermarkets) have prepared gourmet selections at their deli counter, including sandwiches and prepared ready to heat and eat selections

Is maid service provided ... ?
The cleaning service cleans before you arrive and after you leave. There is no daily maid service, although daily or mid-week maid service can be arranged for an additional fee (but truly not necessary for stays of a week or less). There is a washer and dryer, dishwasher, vacuum and mop for you to use when needed.

Are there telephones and TVs ... ?
We have added Free International calling to select locations via our VOIP phone service. With our VOIP phones, you get FREE Unlimited local & long distance calls and some international calling with our Xfinity plan. Details are in the home - read it BEFORE making calls.

The VOIP telephones can be used for incoming calls as well as outgoing calls.

Remember that all local and US continental long distance as well as some International calls are provided free through the VOIP phone service (again, read the posted instructions before making calls in the home).

There is cable connected 55" 4K UHD LED TV with Netflix streaming videos and Google Chromecast in the living room and all bedrooms have a cable connected LED TV with a DVD and/or VHS player (5 TVs all together). There are no premium channels or pay per view options. Basic cable has over 50 channels including many children's channels to choose from. And as noted above, we also offer Netflix streaming with over 22,000 on demand movies and tv shows to choose from!

There is a computer with a laser printer/fax/copier/scanner that is connected to the internet through a high speed Broadband connection for you to use. Play online games ... research places to visit ... check email ... print your boarding pass ... have fun!

Is the pool heated ... ?
The Pool can be heated for an additional charge. Check the Rental Rates, above, to see current charges to heat the pool during your stay. Pool heat, initially off, can only be switched on after payment is made. It takes the pool approximately 6 - 9 hours to heat up.

Do you allow pets?
Sorry, we don't allow pets of any kind. As many people have allergies we find it is better for all guests to keep our home pet free. That said, we can refer you to a dog kennel that is really great, where we've boarded our dog over the years.
Contact Us
Looking to make a reservation or just have a question?
We'd love to hear from you!
Call us at +1.708.524.8871 (and leave a message if we are not in)
or
Click here to email us at: info@picadillyparadise.com
---
---
Sorry, but we have removed the "Contact Us" form fill-in on this website as we were getting lots of spam. So please contact us at the email address above through your own email program. We will get back to you as soon as we can. Thank you.

Please note: This page, all pages on this website, and this privately owned home are not affiliated with, maintained by, or in any way officially or unofficially connected with the Walt Disney Company or any of its affiliates or owned properties. The terms "near Disney" or "from Disney World" or "near Disney World" and other similar phrases used herein are provided as a distance reference only .